Hey there, Holiday pals!
It seems like the Winter Festival has gotten off to a great start! Pandanda looks so festive with all of the greenery and lights against the snow. I am really starting to get into the Christmas spirit!
I wanted to remind you that you have today and tomorrow to send in your Festive Photo with Your Friends contest entry. Any entries received after
11:59pm PST on Sunday, December 18th
will not be entered in the contest. You can click that link to see what the deadline is where you live.Don't wait until the last minute!
We have seen many more eligible entries come in since I
updated you about some important contest rules on Wednesday
. It really does make a difference if you follow all of the rules! Don't forget to include your panda name in your email!
This Tuesday, December 20th will be Snowman Day! Collect as many stocking stuffers as you can between now and Tuesday so you can get lots of Frosty Potions from Chilly the Snowman. We are going to fill Pandanda with snowpandas! Check out this picture from last year's snowman invasion: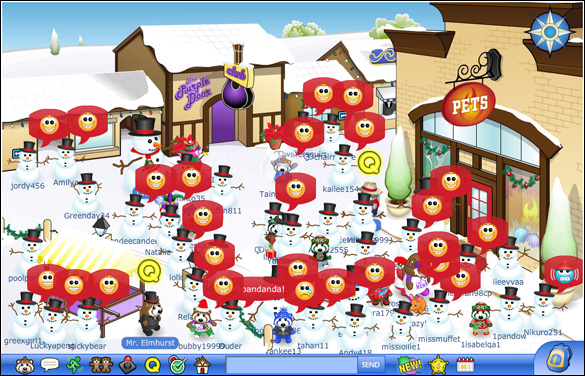 I'm going to ask Sheriff Steele if he can drop in on Snowman Day. I've told him that lots of pandas want to see him, and this would be a great day for a visit! I'll let you know what he says!
On Friday, December 23rd - Christmas Eve Eve - it will be Christmas Outfit Day. Put on your most Christmasy clothes, then join your friends around the big Christmas Tree in Bear Hollow to sing Christmas songs!
Have a great weekend!
Henry