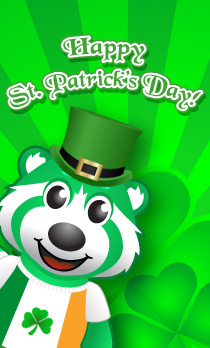 Beannachtai Na Feile Padraig Oraibh
- which is Gaelic for "St. Patrick's Day Blessings upon you!" I hope you are getting into the Irish spirit by wearing as much green as you can - green Panda Paint, green clothes, green accessories. You can even buy an Irish flag t-shirt!
Make sure to dance an Irish jig over to the Clothing Co. on East Market Street so you can get your free St. Patrick's Day gift from the Clothing Catalog. I hope you like it!
Party on in
Green
, Pandas!
Henry