Hey there, friends!
Well, the groundhog saw his shadow on Groundhog Day, which means six more weeks of winter. The Pandanda weather forecasters had thought things were warming up in Pandanda, but they now agree with the groundhog's prediction. The new weather forecast is for heavy snow to hit Pandanda again late next week, just in time for the Friendship Festival!
Maggie is so excited for more snow that she is now selling Sled Companions, along with her Horse and Pony Companions. Head over to Farmer Ned's Barn to check them out! The sleds come in 3 color combinations, and will be just the thing for getting around Pandanda after the snowfall.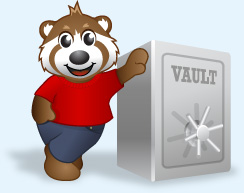 And here's some great news for those of you who love to shop - you can now buy MORE Vault space! You can buy up to 500 more spaces, for a total of 1000 spaces. The Vault is a great place to store your summer clothes, holiday decorations, or anything else. Putting things in your Vault lets you free up space in your closet and treehouse storage for new clothing or furniture.
I've got some more cool stuff to share with you all, but I will save that for my next post. Talk to you soon!
Henry