Hi Friends!
I know a lot of you have either already started back to school, or you soon will be. I hope you all will have a wonderful school year, and will learn lots of new things that you can use for the rest of your life!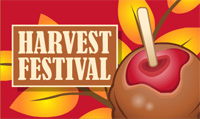 I wanted to make sure everyone has marked their calendars for two exciting events next week. On Friday the 24th, the annual Pandanda Harvest Festival begins! The temperatures in Pandanda land will start to cool off, and the beautiful colors of autumn will be seen all over the island (well, except for Coconut Beach - it's always tropical there!) You will start to see yummy caramel apples appear on the ground, but don't eat them! You'll want to collect them to trade for exclusive Harvest Festival prizes!
On the the very next day, Saturday the 25th, another fabulous Free Elite Member Day is planned! Free Elite Member Day (or as we like to call it around here, FEMD) is a day where everyone who logs in has full access to Pandanda's Elite Membership features for that day. You can buy anything you want from the catalogs, decorate your treehouse and have friends over, and even adopt a pet dragon from the Pet Shop.
It's gonna be fun!
Henry