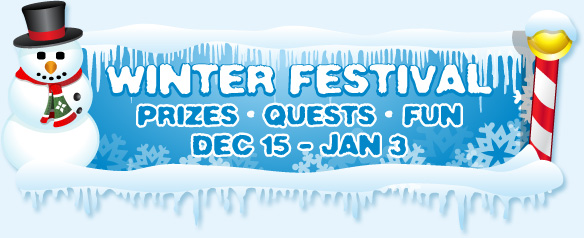 I can already feel the temperature dropping, and the snow clouds are starting to gather. I expect to see Pandanda covered with snow for the start of the Winter Festival tomorrow! The townspeople are ready to "Deck the Halls" with Christmas decorations, and the delivery of a huge and beautifully decorated Christmas Tree has been arranged for Bear Hollow. There will even be festive holiday music!
Chilly the Snowman will be back to trade his awesome holiday prizes for the Stocking Stuffers you will collect from all over Pandanda. Almost all of Chilly's prizes will be available to every player. There will also be some holiday items added to the Clothing Catalog and House & Tree Catalog for Elite members, so make sure to check those out!
In addition to collecting Stocking Stuffers to trade to Chilly, there will be some extra holiday-themed Quests for you to do each day. So you should have plenty to do to keep you moving and warm, even in the snow!
I promised to post some more pictures that you sent in from Red and Green Day last week, so here they are!
Sunnynemi, SelenaAmaris, Alexandru356, Caisa456
Lucca
Thomaz
Cresent1
dirdor
Bundle up, and get ready for Winterfest!
Henry