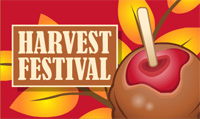 Yes, it is that time again - time for the 2nd Annual Pandanda Harvest Festival! The Festival starts tomorrow, August 23rd, and ends on Monday, September 5th. I think the Harvest Festival is one of my favorite Pandanda festivals. I am always so happy when the temperature starts to get a little cooler after the summer, and the Harvest Festival is a super way to celebrate!
There will be special decorations and music all over Pandanda for you to enjoy as you collect caramel apples. Mmmm, caramel apples!! But these apples aren't for eating, oh no! When you have enough, you can go to Harvest Grove to trade them for special Harvest Festival prizes.
Make sure to visit the Clothing Co., too! There will be 2 new items for sale that can be bought with Panda Gold.
While you are waiting for the Harvest Festival to begin., check out the
Beach Party Photo Album on Facebook
. It will be a great way to remember the summer fun we had in Pandanda!
I've also put up an easy new Poll - What is your favorite season of the year? Make sure to vote!
Henry